Oh, I've been slow about writing about all the awards bestowed on this little blog. A couple of recent trips really knocked me off my schedule.
Since I've shared random facts
here
and
here
, I won't bore you with them again. My vampire issues are documented.
I hope you will visit these blogs. The links are to the award post, but I truly turn to these women on a regular basis for support, inspiration and writing advice.
This Liebster Award goes to bloggers with fewer than 200 followers. I fit into this category very nicely. I received this honor from Cynthia over at
Random Thoughts
.
I received The Versatile Blogger, The Irresistibly Sweet Blog Award and the Liebster Award from Cassandra over at
Bookish Bird
.
The Versatile and Irresistibly Sweet Awards require sharing seven random facts and passing it along to five blogs.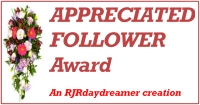 Tonia Marie Houston of
passionfind
celebrated her two-month Blogiversary by passing along an Appreciated Follower Award. I was among her five fave followers. (This was a nice award, because it makes one feel less like a stalker for leaving comments.)
I was tagged by Beth Fred at
Beth's Blog
. The tag requires 10 random tidbits.
Karen S. Elliott over at The Word Shark gave me a
Guerilla Friend Award
. She made it up just to say thanks to friends and followers. She also had a fun quote from Oscar Wilde —
"True friends stab you in the front."
Maeve Frazier at
Lollipop's Cottage
gave me the Blog on Fire Award on Oct. 1.
If you are still with me, here's a list of bloggers and the award each passed along to me in September:
Thank you all for the awards.
I hope you all have a fun Monday. What are your writing plans for the week?